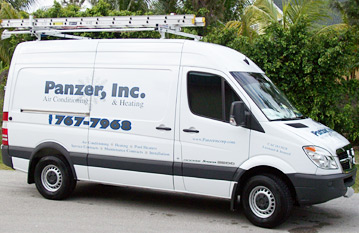 Specializing in commercial and residential HVAC repairs and service. Panzer, Inc. is committed to keeping our clients comfortable, cool, and carefree. Air conditioner maintenance and repair is one of the best, most cost-effective ways to stay cool in the summer and keep your system running at full capacity. No job is too big or to small and we deliver 100% customer satisfaction on every project. So, whether you need air conditioner repair work for a single unit or an entire office building, our highly trained and experienced technicians will provide the speedy, high-quality service you can depend on from Panzer, Inc.

As your heating and cooling system ages it can lose efficiency and even break down. Don't trust your comfort and satisfaction to just anyone. When you need service for your Heating, Ventilation or Air Conditioning Systems, you can count on Panzer, Inc. to get the job done right. Let Panzer, Inc. provide an estimate to help you decide on the right repair or replacement to fit your needs and budget.



Design, installation, service, maintenance and operation of all HVAC systems. Providing single source solutions to insure a comfortable, healthy, and productive environment. In addition our services include utilizing proven procedures, state of the art technology and qualified personnel in order to make any and all repairs necessary.





| | |
| --- | --- |
| • Competitively Priced | • Professional Technicians |
| • Licensed | • 100% Guaranteed Work |
| • Same-Day Service | • Certified |
| • 24/7 Emergency service | • Environmentally Conscious |
| • Insured | • Great Work Ethics |



We employ the best people in the industry, as such we offer some of the most exciting opportunities for people to gain skills. Panzer, Inc. employees have the ability to advance within the company and be part of a team that meets and exceeds our customers expectations. contact us for an appointment today!
Our technical resources and capabilities enable us to provide programs that meet our clients needs from total equipment replacement to preventive maintenance and emergency response services. Our technicians are trained to operate, maintain and repair all types of HVAC systems within our clients commercial or industrial properties as well as residential systems